Learn how to create a Inspired bathroom. 5 tips to create peace using natural elements with photos to help you with your remodeling project.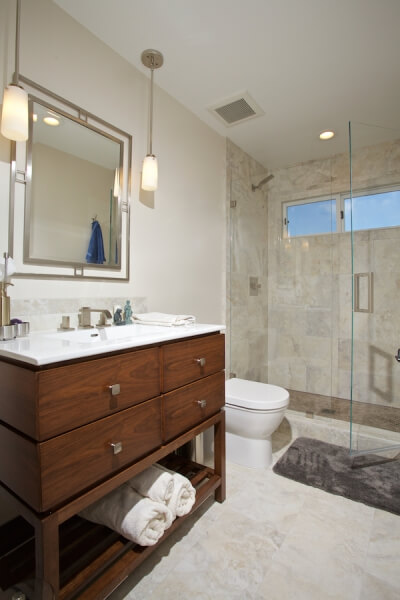 The average American in a lifespan of about 78 years spends about 1.5 years in the bathroom. That amounts to about 30-60 minutes a day. The sad part is, some homeowners hate their bathrooms.
But when it looks like this one, it's easy to spend a little extra time there and feel comfortable.
Is your bathroom a sanctuary or a place you're trying to escape from because it's cluttered and cramped?
Bathroom remodels are considered a good long-term return on investment.
A bathroom remodel can actual increase the value of your home, helping it sell for a higher price.
But, more important, a newly remodeled bathroom creates a peaceful bliss for homeowners.
The extra space gained alleviates the cramped feeling that causes frustration, especially when there's a rush to get in and out of the bathroom.
This home went from a standard, tight-squeeze bathroom with a boxy feel to it to a Zen-Inspired sanctuary that makes use of natural elements like stone, open space, texture, water, and, air.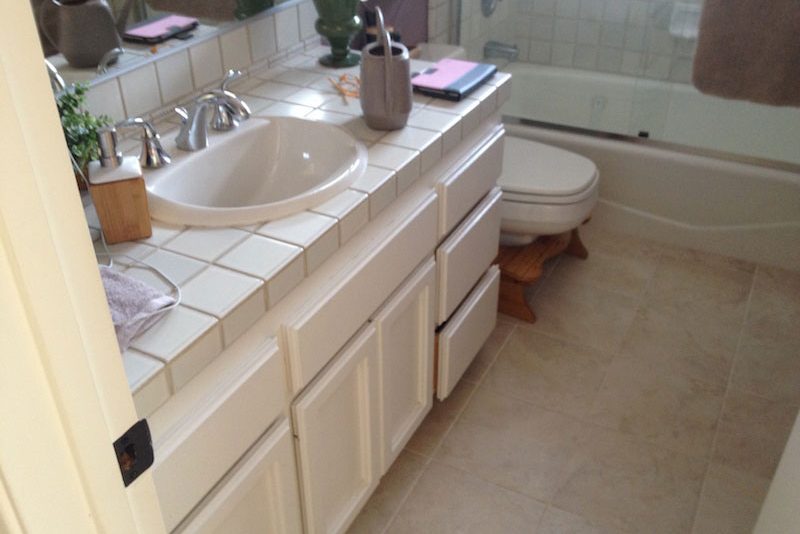 Asian-influenced bathrooms feature minimalistic decor, subtle colors that usually evoke a calm, soothing state but often infuse an energetic flare by using a colorful accent like the blue that is intertwined throughout this bathroom dream remodel from the towels to the lighting.
It's just enough splash of color to add a happy, uplifting, and vibrant tone to the bathroom.
Often a Zen-Inspired bathroom will feature wood throughout. From the obvious (like the wooden door) to the subtle (wood trim and decor).
This bathroom remodel showcases a dark wood and carries the look throughout ,using subtle pieces of furniture and decor like the chair in the walk-in shower and the beautiful wood trim and elegant wooden artifacts above the stand-alone bathtub.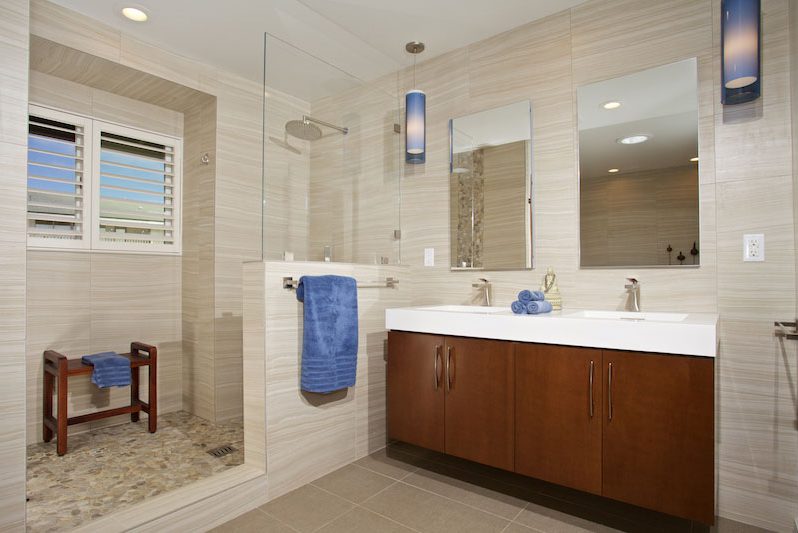 It was a daunting task to remodel all our bathrooms at the same time. The projection was for us to use the local YMCA for a good amount of time. The whole project went a lot quicker than we thought. The Project Manager from day one was always on top of the schedule and always addressed our needs. The project was completed on schedule, and came out beautiful!! –Jeffrey & Allison Teitelbaum
5 Tips To Create A Zen-Inspired Bathroom
Think of Zen design the way nature flows through life, like a river or spring. The elements of nature come together in a beautiful, bold, and collaborative way. Nothing fights to dominate. Water flows over, around, and in between rocks. Shiny pebbles catch your attention and then the eye is pulled in yet another direction where a grassy field may run alongside the river. Zen-Inspired bathrooms bring this natural peacefulness inside for you to enjoy.
Color schemes take their cue from nature. Recreating nature through paint, stone, and wood makes sand, taupe, gray, green, and black top choice colors for this bathroom style. Infusing an accent color like red or even cranberry can add a cheerful, brightness to the bathroom. Zen-Inspired bathrooms don't have to be drab; add your favorite color in small doses using small objects or towels.
Clean lines and elegant design create a harmonious feeling. As you can see by the before photos and the rendering sketch, this bathroom was completely reconfigured to accommodate the free-standing bathtub and walk-in shower. The bathroom remodel also created balance by giving it a serene atmosphere; everything is exactly as it should be.
Let light in. This Asian-Influenced bathroom remodel added natural light by building a window in the walk-in shower. Excellent ventilation and an open, airy feeling were achieved.
Mix and match tile. This remodel used a creamy sand river pebble mosaic saw cut in the walk-shower. The tile that encompasses the shower and the walls by the free-standing tub and mirrors complements but doesn't overpower the stone. The floor is a glazed porcelain tile that introduces a slightly darker hue than the walls, creating a beautiful contrast.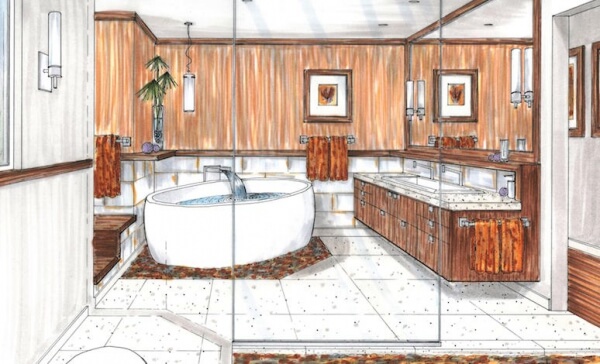 Are you ready to turn your bathroom into a peaceful sanctuary? After all, a year-and-a-half in the bathroom is a lot of time. You deserve to be pampered. Learn more about creating your dream remodel with Marrokal Design & Remodeling. Visit our online gallery for more remodeling ideas, click here or ready to get started? Schedule a free consultation, click here.