Tips To Create The Perfect Bathroom Remodel
Bathroom remodels are showcasing homeowners' unique styles in a way that makes you never want to leave them.
The bathroom remodel can be one of those projects that you might, at first, dread because your bathroom will be unusable for a period of time. But, if the design is well-thought-out and planned, the wait will be worth it. And, if you're using professional contractors, it's likely the wait won't be too long.
Bathroom remodels can feature creative designs that include everything from easy-care, non-slip flooring, mood lighting in the showers, to smart-wired technology for easy access to your smartphone and more.
According to Consumer Reports, one of the biggest mistakes homeowners make when it comes to a bathroom remodel is poor planning which can lead to cost overruns and even the need to do things over.
The good news is that with carefully designed blueprints from experts, to maximize space and functionality, your bathroom remodel will provide a space for you to enjoy for a very long time.
Where to begin with a bathroom remodel?
If you're considering a bathroom remodel, then you probably already know the things you dislike with your current bathroom. This is a great place to start.
Make a list of the things you want changed and why. Be sure to bring this when you meet with your general contractor and design-build team. This will help them understand what you're looking to change and improve. It will also give them the opportunity to show you some of the new items in the industry that will provide greater functionality and comfort in your bathroom.
Budget for potential issues. Bathrooms, even large ones, are relatively small compared to the rest of the living areas in a home. There is a lot going on in a small space and a lot of water flowing through this one room. That means that behind the walls there could be hidden water damage from things like a leaky shower pan or a running toilet. If your floor feels a bit "spongy" that's a sign of water damage. These issues would be fixed during the remodel but aren't always known at the start. It's good to keep a 10-15 percent reserve for any potential issues that arise.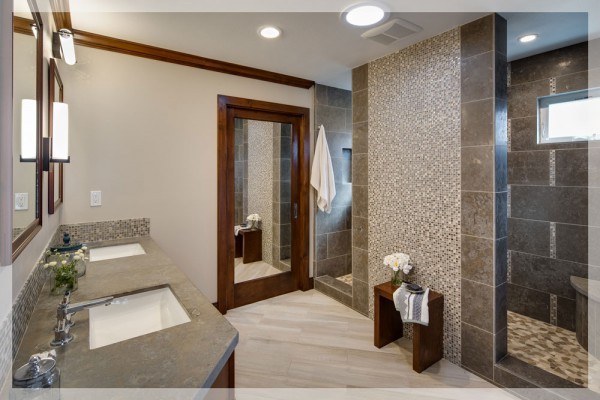 Designing your bathroom remodel to hide the toilet. There are many options and the best design is one that suits your lifestyle. However, there are some things that you can build into your bathroom layout that make the bathroom more appealing. One of those things is to put the toilet enclosed in a small compartment within the bathroom so that it's hidden. Another option is to use a half wall for at least partial privacy. If its own room or half wall isn't appropriate for your space, privacy can be achieved by placing furniture that screens and creates a barrier.
Showers and bath tubs. This is really a personal choice. But many homeowners find that they don't use their bathtubs often enough to have them take up space. However, just be sure that you're not going to miss it once it's gone and it's not a good idea to remove the bathtub if your home doesn't have any other bathrooms with a tub installed. This could negatively impact the value of your home when you want to sell it.
If a tub is removed, the extra space can be used to create his and her shower heads, body sprays and steam generators. No more having to readjust the shower head and other settings when you get in the shower!
With shower heads, toilets, and sinks, you'll find there are many choices for water conservation without giving up a comfortable flow. The WaterSense Program from the Environmental Protection Agency (EPA) labels products that are 20 percent more efficient than federal standards. These shower heads won't leave you feeling like you can't get the soap off. They have a good flow but still find a way to restrict the water to the rate of 2.5 gallons per minute.
If you elect to install a toilet that is listed as a WaterSense product, it'll use only 1.28 gallons of water per flush and could save an average family of four (when replacing an older toilet) more than $100 per year, which is equal to about 16,000 gallons of water, according to the EPA.
Lighting and ventilation. There's nothing worse than a bathroom with poor ventilation and inadequate lighting. It can make it impossible to air out the bathroom or to get dressed in it because you simply get too hot and the dim lighting is certainly annoying when you're trying to apply makeup!
Overhead ceiling lighting will cast shadows on your face. A bathroom with extra lighting for the vanity area will feature sconces or other vertical lighting fixtures mounted to the walls to light the vanity area. LED lighting can be a plus and last for 50,000 hours, but you'll probably want to have dimmer switches so the amount of light is adjustable for your needs.
Ventilation will need to be increased if you're installing steam in your shower. Special guidelines by the National Kitchen and Bath Association can provide guidance. Your general contractor will be able to tell you what is best for your size bathroom and amenities.
One of the most important things with a bathroom remodel is to be sure that you think through the process first and have everything explained so you know the exact process. Never go cheap with design and labor because you'll pay for it in the end and may even need to have the remodel done again. Use quality products and budget accordingly. These products will be in your home for a long time and they carry out important tasks and transport a lot of water. You don't want them failing.
A final consideration for bathroom remodeling is to plan for the future. If you plan to stay in your home into your golden years, you might consider some of the "aging in place" universal designs such as grab bars. These can be included in a bathroom remodel without making the bathroom look "institutional" and in years to come, you'll find they are a welcome addition.