Accessory Dwelling Units
ADU Addition
Homeowners are finding that a well-designed home can accommodate more than just its owners.  Grandparents, adult children, or even Airbnb guests can enjoy Accessory Dwelling Unit (ADU) access.
ADU Space Design & Remodeling New homes are showcasing a unique concept: roommates. Housing costs are rising.  Many homeowners are investing in a home renovation that creates space for extended family living or renters.
A Las Vegas developer in early 2016 showcased non-traditional living arrangements as part of the "New American Home" with the goal to help ease financial burdens and bring family closer together while still providing privacy.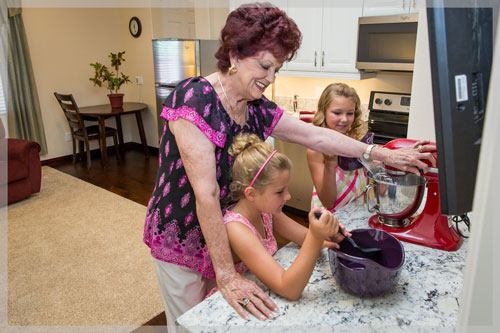 Developers say there is a growing desire for homes that create space for these types of units. These homes feature things like a second-floor unit or guest suites with a kitchenette and separate entry for grandparents or recent college grads, allowing them to cut their financial burdens and avoid having to rent on their own at a time when rents are rising.  An external garage can even be converted in to an ADU. There's been a 20 percent hike in rent since 2010.
San Diego, CA builders are now starting to design homes with Accessory Dwelling Units in mind.  Many homeowners don't want to move but prefer to remodel a tiny space in or outside their home to accommodate extended family or renters.
Accessory Dwelling Unit Remodels Are a Great Solution
"We're having our mother-in-law live with us. She's going to have her own attached apartment and she gets to spend time with the grandkids," says Kris Harman, a Chula Vista homeowner who had her home remodeled by Marrokal Design & Remodeling.
A study found that teens are happier when grandparents are involved in their upbringing. A University of Oxford study found that teens who had more time with grandparents had fewer emotional and behavioral problems than their peers.
Extended family living, also referred to as multi-generational living, when grandparents and adult children live with their parents, is proving to be a triple win.
"Extended family living is an appealing option to us because my mother-in-law just retired last year and economically would be struggling to live by herself," says Kris Harman.
For Anita Harman it's an opportunity to see the grandkids and have a bigger space, "It's nice to pool your money—you get more".
For Anita's son, John, "It's relief". Anita moved from Northern California where she lived alone in her house—a situation that John felt wasn't ideal. "I would worry about her safety."
The Harmans decided to relocate Anita to their home. Now they're just an intercom call away from the kitchen to the granny suite. Before Anita could move in, a lot of renovations were necessary.
"Marrokal had the most progressive layout, the best floor plan option that we liked. They used as much of the existing structure as they could and obviously that is of benefit to us because it keeps the cost down for the project," says John Harman.

Watch the video to see The Harman's Granny Flat remodel.