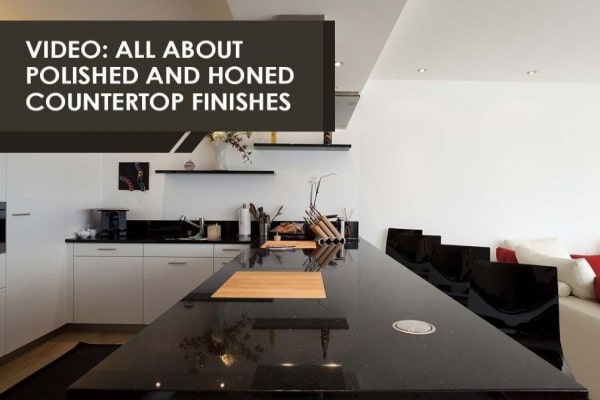 Marble or granite countertops are an excellent way to add a sense of grandeur and luxury to your kitchen. While there are many aesthetic choices involving your countertops, today we will talk about their finish.
Choosing the right finish is an important part of your kitchen remodeling project because the countertops can tie your kitchen's design together. At Marrokal Design and Remodeling, we find that the choice between polished and honed finishes boils down to the taste of the homeowners. Both options are beautiful.
Honed Finish
Granite or marble countertops with honed finish have a satin or matte appearance, which lends it a soft and natural look and feel. They evoke a more casual and relaxed vibe compared with a polished finish. Countertops with a honed finish feel smooth and velvety without any gloss, giving it a subtlety that is not present in the polished finish. Since many homeowners prefer the polished finish, a honed finish can also make your kitchen look more unique.
Polished Finish
The same principle applies to a room addition or a kitchen remodel: match with the rest of the house. If your home looks luxurious, then consider a polished finish. Granite or marble countertops with a polished finish look classy and sophisticated. A polished finish reveals the materials' natural beauty, resulting in unmatched elegance and grandeur. Plus, because polished granite or marble reflect light very well, the surface appears flawless and smooth and the colors richer and darker. Countertops with a polished finish look crisp and vibrant.
Countertop Maintenance
When it comes to maintenance requirements, both options are roughly equal. During our initial consultation, we will demonstrate how to keep your countertop looking beautiful depending on your finish. In the meantime, here are a few everyday substances that you need to be aware of: vinegar, alcoholic beverages, carbonated beverages, coffee, tea, and salad dressing can damage the surface if left unattended. Clean any spills as soon as possible.
Marrokal Design and Remodeling can help you choose the best finish for your new marble countertops. We have been the leading kitchen contractor in our area for over 30 years, winning numerous awards for the quality of our service. We will help simplify the decision-making and remodeling process and help you stick to your goals. We serve many areas, including Poway, La Jolla, San Diego. Call us at (888) 214-1544 to learn more about countertop finishes. You can also ask for a free consultation.