A small kitchen remodel can not only make your home more functional and stylish but also, it can increase its value. According to the National Association of Realtors (NAR), a kitchen remodel is both satisfying and can recoup anywhere from 52% to 59% of their remodeling investment. But most important the remodel made homeowners want to spend more time in their home.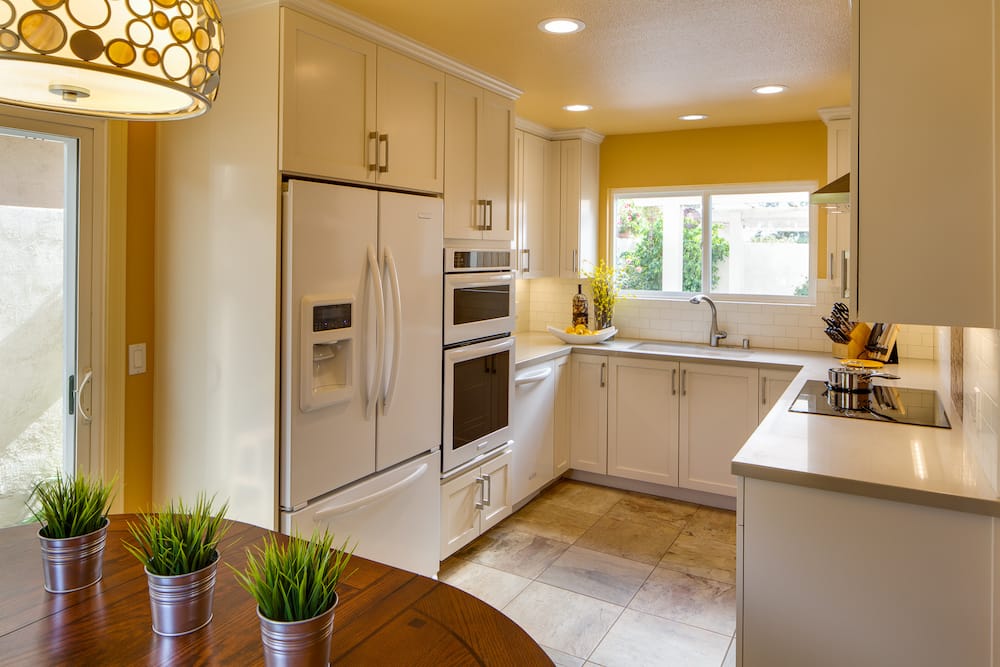 Kitchens are where most of us love to spend time. We all like to eat and drink and having a kitchen that's comfortable and easy to cook in can make all the difference. It can make us want to stay home more for meals, entertain or teach the kids to cook.
But a small kitchen remodel can be a big project if you don't properly prepare for it. A home remodeling contractor can design plans that make a small kitchen seem roomy.
Here are a few ideas to make your small kitchen remodel a success.
Create space: Very few homeowners have a surplus on storage or space especially in the kitchen. If the shelves are empty, we all tend to buy more to fill them up. The same goes for counter space. So, finding the best way to create space and open up your kitchen is vital. Instead of using traditional cabinets consider opening shelving. This makes a small kitchen feel bigger. You can also use hanging pot racks and glass-door cabinets to create an illusion of depth and spaciousness. Glass tables or even a mirror makes your kitchen look bigger.
Open walls: a home remodeling contractor can tell if you can remove a wall that's making your kitchen feel claustrophobic. This can be tricky because if the wall is a load-bearing wall special attention and design will need to be considered before determining if that wall could be removed.
In the video below, Marrokal Design & Remodeling helped fulfill their clients' dreams. They had a wall that was making their small kitchen feel even smaller.  Watch the video to see the before and after images and how this small kitchen remodel has changed their life.
The Kauffman's kitchen was stripped down from the ceilings to the floor so that their new dream kitchen could be built. Their biggest concern was that the remodeling process would be a headache but to their surprise and delight, everything came together and now the homeowners say, "it's enjoyable to cook again."
Make your kitchen light: in any room lighting is very important but two places in the home command excellent lighting: the kitchen and the bathrooms.  Overhead lighting in the kitchen is insufficient. These days lighting can make a space look very unique. You can use lights from the ceiling down to the floors. Remember that a good use of lighting in the kitchen is under the cabinets. It helps to create a soft look when the overhead lights are off. If you use open cabinets or glass-door cabinets be sure to have lights installed to highlight your dishes.
Gimme Color: Yes, white can make your small kitchen look bigger and it's forever in style it seems. But you can use splashes of color in your backsplash, countertops, or cabinets to make your kitchen more vibrant without making it feel small.
Remember, a small kitchen still has plenty of remodeling solutions but you can also use interior design techniques to make your kitchen sophisticated and charming. Want more ideas? Come see us at our next Kitchen, Baths & More seminar. Sign up to reserve your seat in our free remodeling seminar.