Congratulations to Enrique for being named Forty Under 40 Class of 2022 — Young Innovators by ProRemodeler.

A Passion For Architecture Beautifies San Diego One Home At A Time
Ever since he can remember, Enrique Covarrubias has been designing homes.
"When I was a little kid, I drew houses. I just loved drawing houses, and I would model them out of the sand, out of anything that I could get my hands on."
When an earthquake in his hometown of Calexico sliced his childhood home in two, it sparked an even deeper passion for designing houses.
"I was very young when the earthquake hit, and I was always thinking about houses and how to make them better. The area I grew up in wasn't beautiful, so I wanted to make homes that would make the neighborhood look prettier."
Fast forward to today, and that idea still drives everything Enrique does as the Director of Design for Marrokal Design & Remodeling. He's been creating award-winning houses for the company and its clients for two years in this role, but he has been honing his talent in the industry for more than a decade.
Enrique completed his master's degree at the New School of Architecture in San Diego (ranked at the top of his class) and has carved his niche in the industry as one of the most recognized designers for remodeling and new custom homes, says one of his teammates, Steve Walton at Marrokal.
As Director of Design, Enrique supports nine design consultants, three interior designers, and six drafting technicians. The load is heavy, but he is always eager to design exactly what the client wants.
DESIGN TECHNIQUE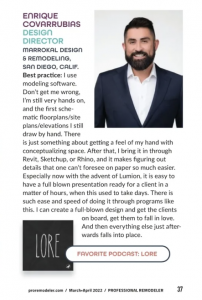 He loves to see happy homeowners, so he listens carefully to their needs and desires from the very first meeting. Then Enrique does what he does best-he designs, taking his queues partially from the clients and the environment.
I want to build something unique that speaks the city's language, whether it's San Diego, North Park, La Jolla, or whichever city the home is located in. So, I reference minute details from structures like a library or a museum in the area. So, I might create a similar arch here and there, just something to tie in the home with the community. In this way, the custom home or newly remodeled home has the same vocabulary as the city; instead of just being a generic structure, it fits and complements the area.
To do this, Enrique has an approach he uses with all clients.
I go through all of the notes. I review all of the client's pictures, their inspiration, and the feedback I get from them. At this point, it's just a floor plan. But then I begin modeling the project and creating the renderings. This is where everything comes into place. We can figure out light lighting, fittings, and cabinets. And from there, the project goes to the drafters and interior designers-it becomes their blueprint for them to follow.
This process has helped Marrokal Design & Remodeling accelerate their workflow and ensure the client's satisfaction with the custom home or house remodel.
Enrique's care, passion, and commitment to the architectural industry positively impact homeowners and San Diego by beautifying the city one home at a time.