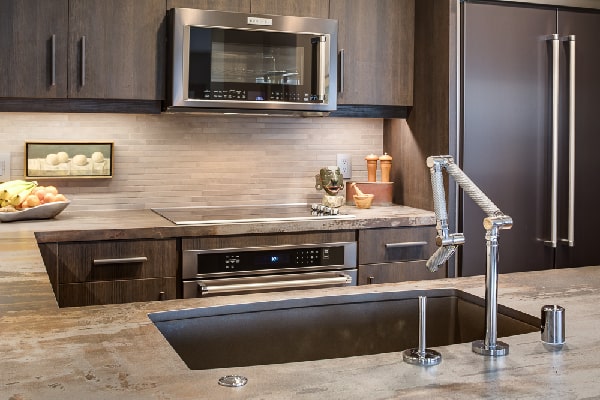 Kitchens are so much more than just a place where food is prepared. They also are a space in your home where your family and friends gather, share stories, and spend time working on projects at the kitchen table. This is why kitchen design is critical to supporting and enhancing your lifestyle. At Marrokal Design and Remodeling we interview our clients about their lifestyle so we can create a dream kitchen that suits their needs. Our clients turn to us because we're an award-winning,  home remodeling contractor in the area. Here's a look at some of the top kitchen must-haves that can boost aesthetic appeal and functionality.
Island Cooktop
Including an island cooktop is an upgrade that provides extra countertop burners to use when others are tied up. This is built into a large island, which offers a sufficient amount of workspace for food preparation. Adding other amenities below the island such as drawers for storage purposes makes it more functional and provides easy access when preparing a meal. If you're concerned about blocking your view since the island is in the middle of your kitchen,  consider adding a downdraft exhaust system. A downdraft cooktop eliminates the extractor fan or cooking hood from above instead, a fan sucks the fumes and smoke down through a pipe under the floor.
Pot Rack
A pot rack is a great addition to a kitchen. They can add style and, of course, extra storage. Kitchen drawers can be designed with pullouts to make your cookware easy to access. But pot racks are a great way to store your pots and create a unique display. For instance, stainless steel with bright metal pots and pans can brighten the space without overwhelming it.
Kitchen Banquette
Making sure your kitchen is designed to be inclusive is top of mind for homeowners. It's fun to prepare food while socializing with friends and family. That's where adding a kitchen banquette to your window seat can come in handy. This will give your home additional seating for guests, perfect for the holiday season. Ask your contractor during your kitchen remodel to make space for this kitchen addition.
 Glass Cabinet Doors
 One of the best things about glass cabinets is they give a preview of what's inside. You won't have to open each cabinet door or guess where certain items are since they are already visible from the outside. Plus, glass cabinets are perfect for both traditional and modern homes.
Count on Marrokal Design and Remodeling LLC for your kitchen and bathroom remodel. Our team will pay attention to every detail to help achieve your dream kitchen. Call us today at (888) 214-1544 or fill out our online form to learn more about our services. We serve San Diego, CA, and other nearby locations.