Making your bathroom timeless should be one of the goals of your remodel. After all, you want it to address not just your current needs but also your future ones.
But with Pinterest, Instagram, Houzz , and more online sharing platforms, homeowners often find they have a dilemma: do they follow current trends or stay with things that seemingly will never go out of style? 
It really depends on your individual preferences and how often you might be remodeling your home. Marrokal Design & Remodeling shares some of the hottest bathroom trends and how you can make them timeless for your room addition remodeling project.
Decorative Tiled Walls
All-white walls have always been a bathroom staple and the more neutral the color the more timeless the appeal. White bathrooms are elegant, simple, and clean. But, maybe you want a little more color in your bathroom. Decorative tiled walls can add the pizzaz without making your bathroom so trendy that it will quickly become outdated. Check out some bathroom tiles in our gallery.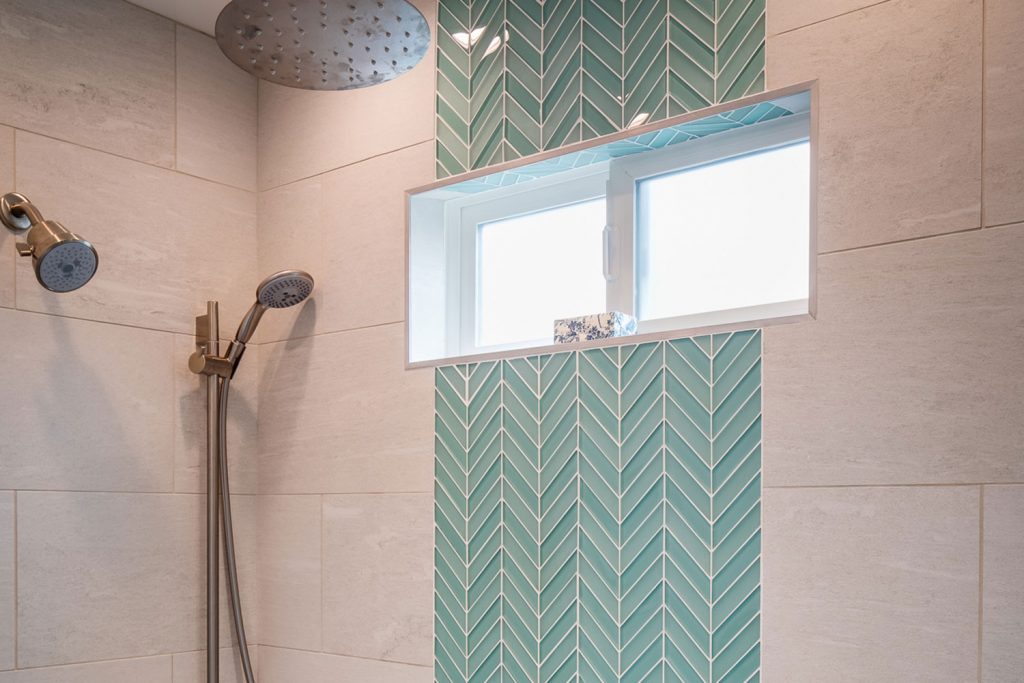 Metal Enclosures
Shower walls with metal edging are gaining traction. It helps define your space and lend more architecture to your bath. Even if your house is a traditional style, the introduction of an industrial element will create a transitional vibe. It's a bit edgy but it will have a lasting appeal over the years. Or you can build a shower niche with metal edging for a distinguished modern look.
Faucet Finishes
Your fixtures and their finishes can add a touch of class and make your home look hip. But you want to choose them carefully because you don't replace that often. 
Polished nickel is smooth, shiny, and highly durable but it can be a little more expensive than other finishes. It also can be difficult to match.
Chrome is delightful but be ready to clean it regularly as it gets a lot of smudges on it. This finish is shiny and beautiful. It's also very popular and among the least expensive of finishes.
Matte black is trendy and makes a classic statement in the bathroom. It's a great way to update a bathroom without making major changes. This finish won't easily show smudges and fingerprints.
White finish is typically a porcelain fixture which is simple and elegant but a bit more fragile than the other finishes. 
Satin Bronze is a subtle finish that easily matches with other finishes and accessories in the bathroom.
Copper will make a striking statement. It's bold and highly noticeable. The metal has antimicrobial properties and scratches actually heal over time, although, you may have to seal the impacted area again with paste wax to protect it after the original color tones have recovered.
Mammoth Art
If you have wall area to spare, hanging a colossal piece of artwork can give your bathroom a captivating focal point. Of course, proper ventilation is a must. 
To learn more home improvement ideas and tips, subscribe to our blog. 
Call Marrokal Design & Remodeling to see what we can do for your home remodel (888) 214-1544 or schedule your free consultation with us in San Diego, CA.