As we prepare for the holidays and those family gatherings, we realize just how vital our kitchen is in creating memorable moments. It's where delicious meals are made and good times are had.
But if you're struggling to find space to create those meals, then it's likely that holidays feel more like work than pure enjoyment.
A custom kitchen remodel can solve the problem but where do you begin? How do you create a kitchen that's beautiful and practical?
When it comes to a kitchen remodel, you want to make sure that the design will give you ease of movement, high efficiency, and a comfortable place to create your meals while enjoying company.
Here are a few kitchen design concepts to consider.
Kitchen Triangle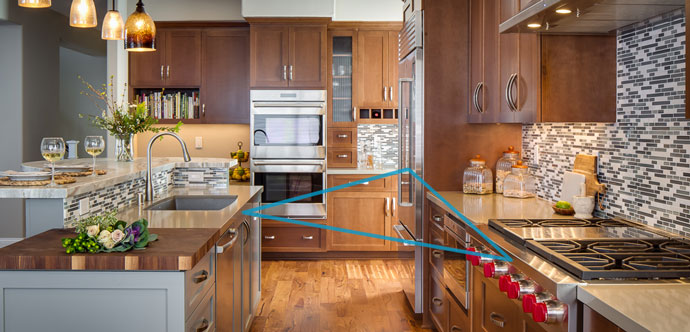 The kitchen work triangle, developed in the early twentieth century, is an essential kitchen concept that works for small or large kitchens. It's designed to simplify the work that's done in the kitchen–cooking, cleaning, and storing food.
In the kitchen triangle, you guessed it, these three task areas form a triangle and should be just steps away from each other to make the kitchen workflow efficient. A well-designed kitchen maximizes effort and energy by grouping work areas close together. The goal in the kitchen triangle is to have these areas close enough but not too close so that a bottleneck occurs when several people are working in the kitchen at the stove, countertops, or accessing the refrigerator or pantry.
Open Kitchen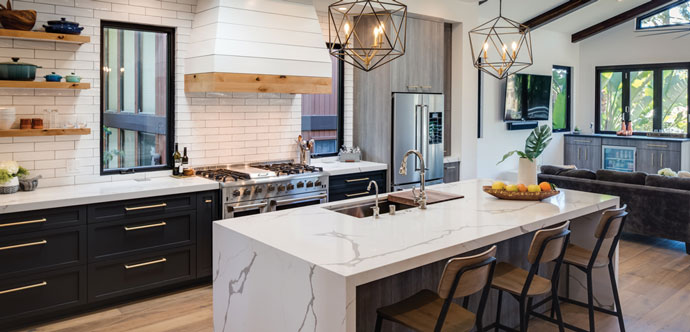 An open kitchen is designed to create lots of space without barriers. It helps reduce isolated or blocked off areas.
The open kitchen floor plan removes walls and instead creates a large open area that allows the kitchen, dining area, and living spaces to blend making your home feel bigger.
A lot of homeowners are a fan of this floor plan because it's perfect for including guests while you prepare meals–nobody is crowded.
While an open floor plan is great for having everyone gather around during food prep, you have to remember that an open kitchen is unforgiving when it comes to hiding things.
With no major walls to act as barriers, there's little room to hide dirty dishes or the kitchen mess; everything: the cooking, dishwashing, and cleaning are in sight from nearly every angle of the big open space.
But one important advantage is that the open space is more comfortable for everyone to participate and without a lot of walls, it's easier to clean.
So, if you can handle everything showing, then the open kitchen may be ideal for you.
Multi-Purpose Kitchen Islands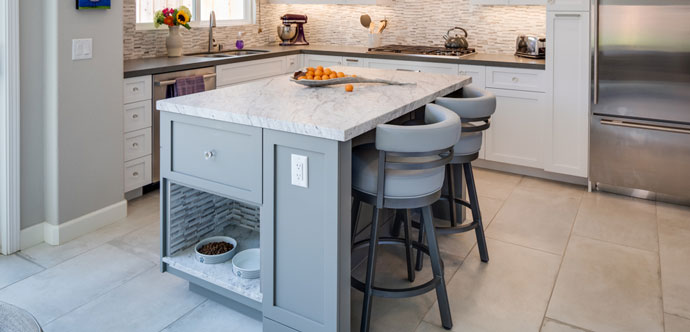 The kitchen island has become a staple in many kitchen remodels. However, some kitchens don't effectively maximize the kitchen island because the kitchen plans weren't designed to match the homeowner's lifestyle and needs.
If you're thinking of putting a kitchen island in, you should consider how it will be used and what things you could do with an island to make it most effective.
For instance, do you need more storage space? Are there particular features you would like to include in your kitchen island? Do you need a warming drawer or a wine cooler? Would you like to wash produce at the kitchen island? What about extra seating? Do you want your family and friends to be able to sit around the island?
Kitchen islands take up quite a bit of space so you'll want to make sure that you have a large enough kitchen to accommodate an island and still have plenty of room around it.
Kitchen islands can be useful for extra storage. Creative cabinetry can store cookware, spices, and even frequently used appliances.
For pet lovers, this homeowner loved the built-in feed station we created. It's convenient, allows the dog to be close, and keeps things tidy.
Thinking about how you'll use your kitchen island will help to make sure that it's designed to simplify and maximize kitchen functionality.