Are you considering a bathroom remodel? A bathroom remodel is one of the best ways to increase the value of your home, and depending on the complexity of the job can be done at a reasonable cost.
Your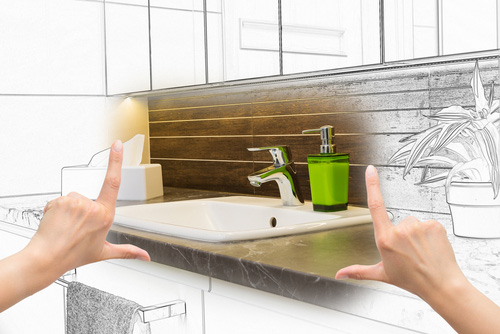 can be as simple as a new coat of paint,  new flooring and window treatments.  Or, as involved as completely new sinks, cabinets, a bathtub and shower enclosure. You may want to add a skylight or maybe just replace faucets, lighting fixtures and change the color scheme.
There really are an endless amount of options to choose from, but there are some important considerations before you proceed. Here are five things to think about:
1. Budget
Going in with a vague budget is the worst mistake you can make. Costs can add up quickly, and you don't want to get halfway through and realize you have overspent. With that said, you don't have to have a ton of money to do a bathroom remodel. You can transform a bathroom with just a few small changes, or completely renovate it for less than you'd think if you are smart about it.
2. Space
Stay mindful of the space you have. Find ways to maximize wall space by having shelving and cabinets installed. Don't get carried away with a large tub or shower enclosure if your space won't allow for it.
3. Current Design And Configuration
One sure way to go over budget is by trying to change the way current fixtures are configured. A new tub or shower can be had for a reasonable amount of money — unless you want to move it to the other side of the room. Try to work with what you have.
4. How Is It Used?
How is your bathroom used? Is it a family bathroom? A guest bathroom? Or, is it your sanctuary? A master bathroom should have a completely different feel to it. You may want a bigger tub, or a larger shower. If it is a family bathroom, keep that in mind when choosing flooring, fixtures, etc. You want your bathroom to be beautiful, but durable.
5. Thinking Of The Future
Something that you will want to think about is how long you plan on remaining in the home. If this is the home you plan to grow old in, you will want to take that into consideration when planning your bathroom remodel.
As time goes by, accessibility will become an issue. You want a bathroom that will continue to meet your needs. Things like getting in and out of the tub may not be an issue now, but later on it may. Keep these things in mind when planning your bathroom remodel.
Remember, your bathroom is the most visited room in the house! Its design and function shouldn't be an afterthought. Good planning can help you create a bathroom you will love for years to come.