In your kitchen, color isn't just an aesthetic choice. Choosing colors for a kitchen remodel can make all the difference in how you feel.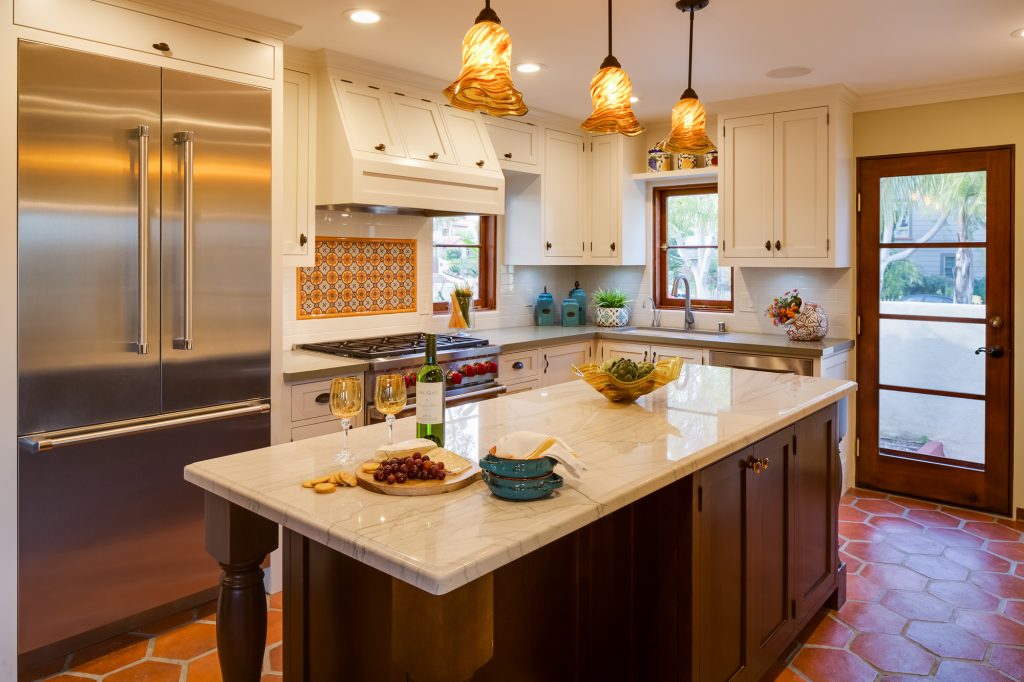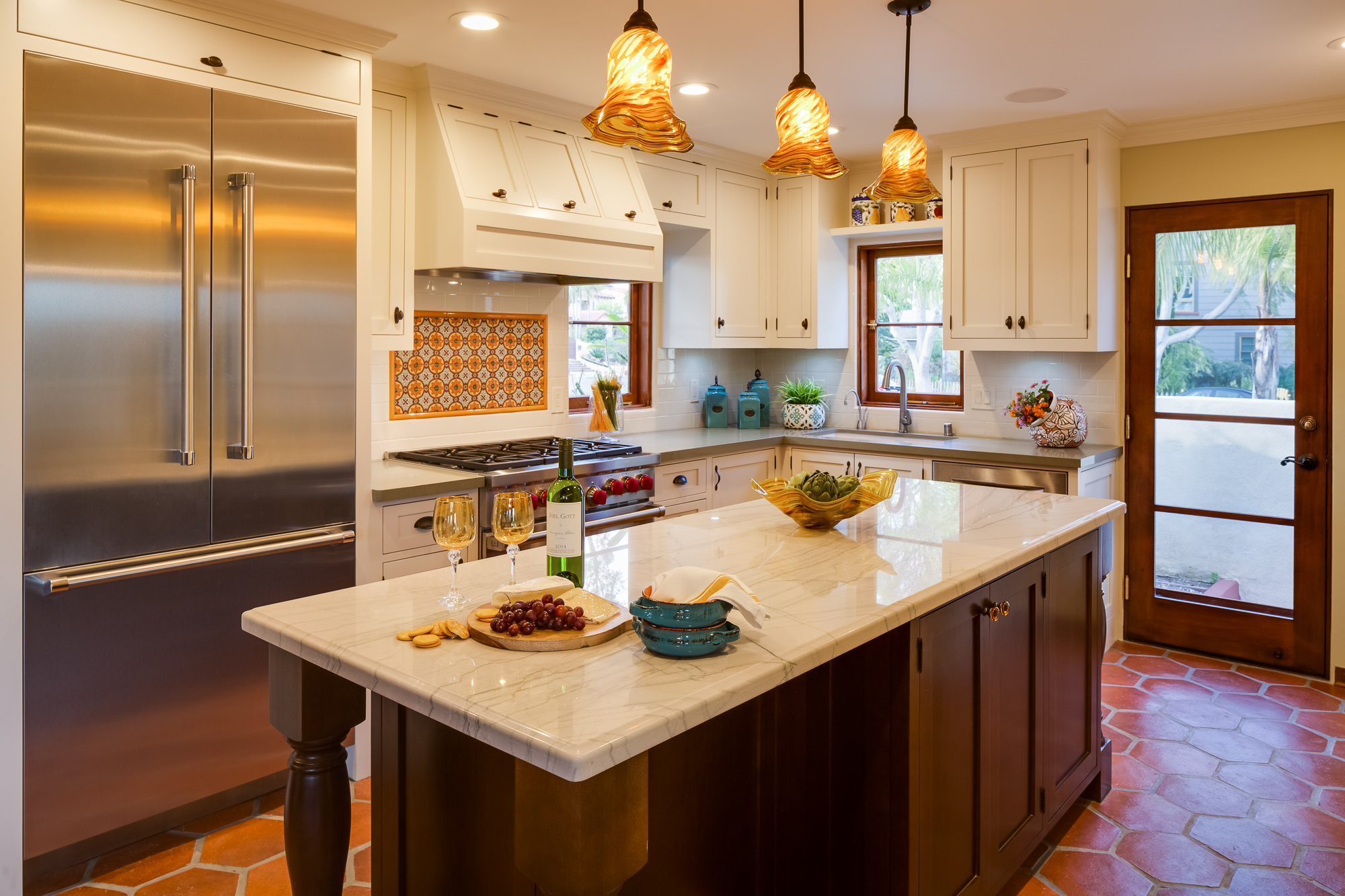 Color is capable of influencing your mood and transforming the essential "feel" of the space. As we'll review in this article, the right color can set the right tone for your kitchen. We'll discuss the psychology of color, how to pick a kitchen color and the often-overlooked importance of neutral shades.
Use color effectively
There's a psychology to color that you'll want to understand before making color decisions in your kitchen. Blue brings serenity, peace, and introspection. If you want your kitchen to be a port in the storm that is your hectic, daily life, light, and navy blues are a fantastic choice. Yellow and gold imbue the kitchen with a sense of excitement and energy
Homeowners who like to entertain, sing, and even, dance a little while cooking and baking might really like what yellow paint or yellow-colored accent pieces can do for the mood or the room.
Green is the color of life. Pair this paint color with tons of natural light and houseplants, and your kitchen will feel alive. Green also encourages people to eat healthier — we can all benefit from that!
When it comes to red, the color matters: dark reds and maroons appeal to the inspired, romantic side of all of us. Be cautious about using too much bright red. It's the color used for warning labels and stop signs for a reason. Bright reds can put you on alert and heighten your senses. That's not to say you can't use red; in moderation, it gives a pop and creates vibrant energy. Too much red, however, can stress you and your guests out.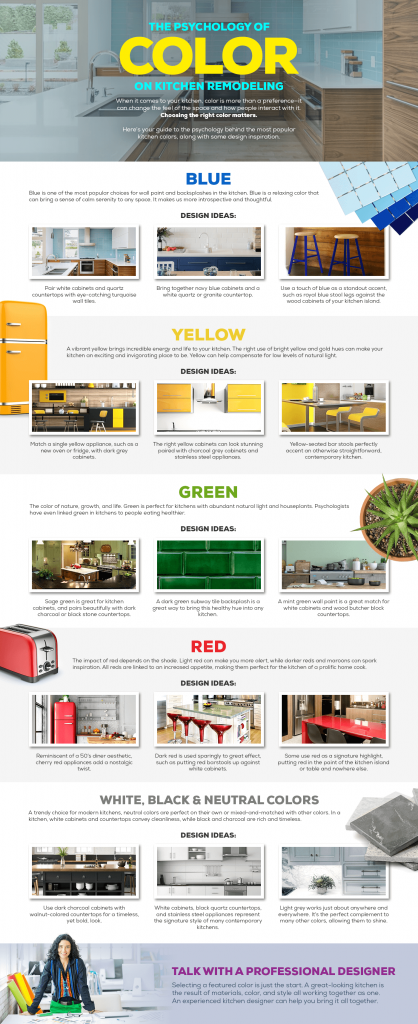 Choosing Colors For Kitchen Remodel
Here's our recommendation: before deciding on your color choices for your kitchen remodel, take a printed piece of paper with your chosen color and place it in the kitchen. Look at it over the course of several days and think about what it looks like in different types of light and, perhaps more importantly, how it makes you feel. The last thing you want is a kitchen that you find hard to love because of your color choice.
Don't underestimate neutral colors
Even when kitchens feature bright yellows or brilliant pastels, it's often best in moderation. When it comes to color, there can be too much of a good thing: too much of one color can be overwhelming.
Take a look at the infographic above. Color is often best used sparingly so that it can "pop" and draw the eye toward certain features in the kitchen. To balance out your kitchen, you'll want to pair your use of color with an equally effective use of white, black, grey, and other neutral colors.
Many homeowners make the mistake of thinking of neutral colors as "boring." But contemporary, modern kitchens are very popular and often use neutral colors to keep within a simplistic color scheme. So, if you love color, just remember that neutral colors play an important supporting role in the kitchen. Learn more about kitchen remodeling in our free online seminar.
For example, if you are planning on painting your cabinets, you'll want to pair them with a neutral countertop. Quartz countertops are perfect in this scenario. This manufactured stone comes in a wide variety of styles and colors. Unlike granite, quartz doesn't necessarily need to have the "veins" found in natural stone. It can be smooth, clean, and uncomplicated: perfect for pairing with those new cabinets. For example, if you've found the perfect dark blue for your cabinets, think about how nice it will look with a white or light grey quartz countertop.
Work with a professional design-build firm
By now, you probably have some great design ideas for your new kitchen. Your next step is to channel this inspiration in a productive direction by talking to a professional design consultant, book your free consultation today. At Marrokal Design and Remodeling, we're here to help guide you through the remodeling process. We'll take your ideas and desires for your kitchen remodel and help make them a reality.
Want to see some examples of the kitchen colors we mentioned above? Check out this infographic. It reviews the most popular colors used in the kitchen and the impact of each on the home.
Note: This is a collaborative guest post with writer, Samantha Johnson.