Most homeowners choose to invest in a kitchen island during their remodels. Islands are excellent options as they add space for work and storage. Sometimes, however, a peninsula is the more appropriate choice. While both kitchen islands and peninsulas add work space to your kitchen, they do have some minor differences.  Marrokal Design and Remodeling, your expert remodeling contractor, discusses these two in detail to help you make a smart decision.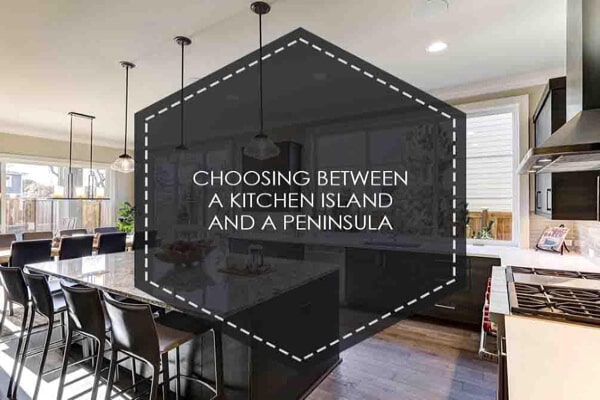 Kitchen Island
A kitchen island is a free-standing space commonly located at the center of your kitchen. It serves several purposes, including added workspace or a place for your guests to sit and chat without getting in your way. Kitchen islands can be used for meal preparation or as an informal snack bar. They also serve as dividers that can double as a self- service buffet during parties. Alternatively, you can choose to install a cooktop or second sink on their surface.
Islands are ideal for U-shaped kitchens. They can help shorten the distance between your work centers and direct foot traffic outside the work core, improving your efficiency. Avoid installing islands if your kitchen's work areas are on opposite walls. If you need help integrating an island into your kitchen's layout, turn to our experts at Marrokal Design and Remodeling for a kitchen remodel.
Peninsula
A peninsula has the same purpose, but unlike an island, it only provides circulation on three sides, with one end attached to a wall. Due to its structure, a peninsula is an excellent choice for small kitchens. It is much easier to incorporate, and you can decide how big or small you want it to be. A peninsula works well in L-shaped kitchens, as it doubles as a natural divider that smoothly separates the kitchen from the dining area. Overall, peninsulas are a great addition to your kitchen. They're easily as versatile as an island without requiring too much floor space.
Whether you choose a peninsula or a kitchen island, you can count on our quality remodeling services to secure exactly what your home needs. At Marrokal Design and Remodeling, we use top-notch products and materials to ensure satisfactory results. We serve communities in San Diego and the surrounding areas in CA. Give us a call at (888) 214-1544 to get started on your kitchen remodeling today!