Home remodeling is a huge project that can start simple but can get progressively more difficult as you get into the details. Even something as simple as tearing down a wall and extending a room can be deceptively tricky; not to mention planning out the schedule and budget.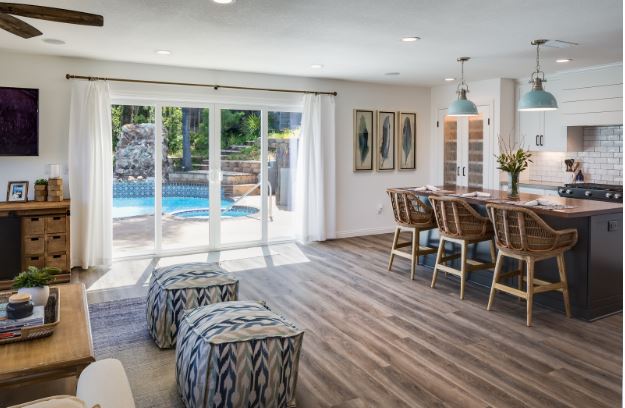 1.  Consider your Funding Options

There are many funding sources to consider when remodeling your home. If you're at this stage, it's likely that you have explored your options of selling your home and decided that remodeling is the best solution. Many homeowners find that they love the neighborhood, their friends and many aspects of their home, so they choose to stay put and renovate or do a whole house remodel to meet their needs.  
Whether you're doing a bathroom remodel or an aging-in-place project, having a remodeling budget is critical. It's always a good idea to come up with a few funding options before you begin your remodel. This will allow you to select the best option if you're financing your remodel. It'll also help you know your budget and stick to it.
Loans, Cash, or Credit Cards
Cash is always king. So if you've been saving up for this remodel, it's a great way to pay for it and to build more equity in your home as the renovation will likely increase its value.
Traditional home equity loans can be used for partial or whole house remodels. Be careful though the collateral for these types of loans is your home; if you can't repay the loan, you could wind up losing it.
If you have equity in your home, a cash-out refinance is another option. This, however, could raise your monthly payments even if your interest rate doesn't go up since you'll be increasing the balance of your overall mortgage to take out some cash.  There may also be some housing loans available that let you wrap the cost of your home improvement project into the mortgage. Check with your mortgage broker to learn about the best loan products for you.
While credit cards are sometimes used for small home repairs, they are typically the worst choice for major home remodeling projects due to their high interest rates.
Short term loans can be a good solution for some homeowners as the rates are reasonable and the length of time to pay back the loans is often between 24-60 months. These personal loans can be either secured or unsecured loans.
2.  Get a Head Start with the Permit and Zoning
Building permits are somewhat known for taking a fairly long time to get approved. While electrical and demolitions permits can be relatively quick to get, more extensive projects that involve adding a new room or extensions that may require zoning can take weeks or even months. It's best to meet with your contractor and go over exactly what you want to do in your whole house remodel so that the permit process can begin. Having a design-build firm like Marrokal Design & Remodeling helps to speed up the process and ensure that the right permits are in place for your home remodel.
3.  Think of the Resale Value of the Home
You may not be planning to sell your home anytime soon or at all, but it's still a good idea to consider how much resale value your remodeling and renovation efforts will produce. An energy-efficient kitchen remodel as well as aging-in-place additions and improvements can significantly increase your resale value since they're updating the home and enhancing both the functionality and aesthetics of it.
4.  Hire a Local Contractor
It's really tempting to do the remodeling project on your own, but if you consider all the details of a remodeling project, you'll usually find that it's much better to hire an experienced, knowledgeable contractor to do the job quickly and on budget, allowing you to focus on your career, your kids, and your life. Whole house remodels are complex and tricky to do, and a mistake can easily cost you more than you think, eliminating and savings that you thought you'd have if you did the remodel yourself.
At Marrokal Design and Remodeling, you can Trust Your Home to Us. Call us today at (888) 214-1544 to learn more about our services or come to our Design Center in Kearny Mesa. We offer free consultations and seminars to help you learn more about our home remodeling services throughout San Diego, CA.