Smart Homes: Technology That Simplifies Your Life
The sixties cartoon TV show, the Jetson's, set the stage for the ultimate smart home complete with a robot who did the ironing, housekeeping, and even offered some comedic relief with her funny quips.
Today's homes may not have Rosie the robot in them but they're being built and remodeled to have all your modern-day needs met. Manufacturers are turning out appliances that connect to smartphones and tablets to simplify consumers' lives.
At the top of the list for smart home technology for consumers are products that keep families' and their personal data safe, according to the IControl 2015 State Of The Smart Home Report.
Consumers are most concerned with being able to connect their smartphones and tablets to self-adjusting thermostats, doors that can be locked from a remote location, indoor and outdoor lighting that automatically adjusts, and home monitoring cameras.
Simplicity and efficiency are big concerns as well.  Some of the most sought-after smart home automation systems are those that make the entertainment room, kitchen, and bedroom connect to technology.
"Fully 68% of Americans believe smart homes will be as commonplace as smartphones within 10 years," according to a study commissioned by Intel Corporation in 2016. The study, Smart Homes: The Present And Future Of Connected Living, found consumers are most willing to adopt smart home technology when they are making renovations or upgrades to their homes. The next most likely time to buy smart home technology is when consumers are buying a new house or moving.
Growth of the global smart kitchen market is expected to increase at 29.1% annually through 2022 based on information from Transparency Marketing Research.
That means things like smart refrigerators, ovens, dishwashers, thermometers, cookware, coffeemakers, kettles, food scales, and more will offer extra features to help make kitchen prep and clean-up simple.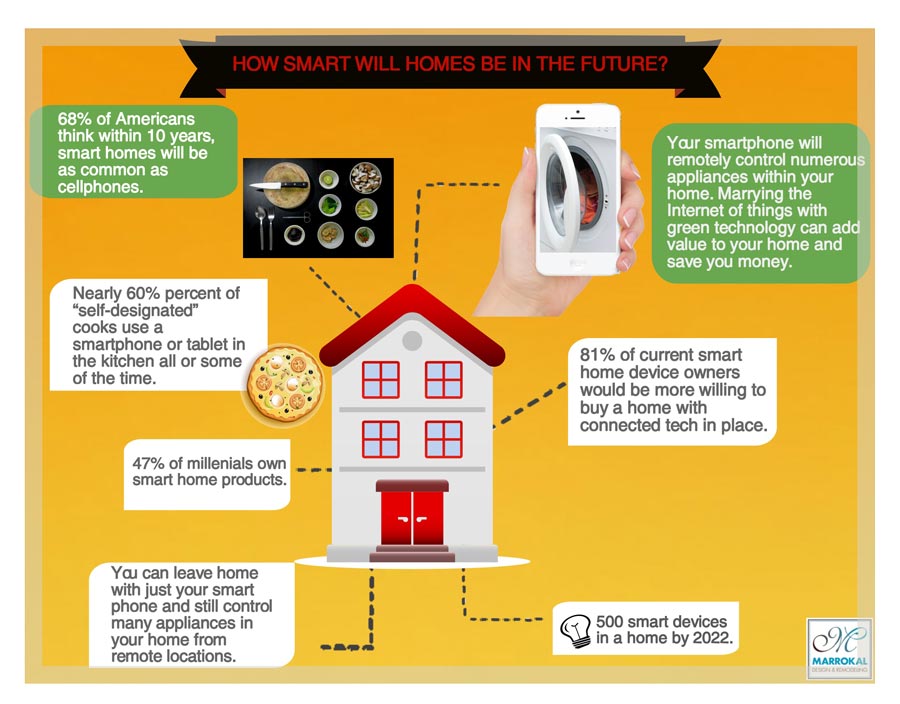 Expect to see automated technology make the kitchen a highly-functioning space giving consumers remote access to control appliances via their mobile devices.
A recent study of 500 households found that 24 percent of "self-designated" cooks use a tablet or smartphone "all the time" in the kitchen, 34 percent reported they "sometimes" use their mobile device in the kitchen.
Consumers are looking for ease-of-use above anything else. So, if programming or using a smart device is complicated, it won't win favor and may even be a negative feature in the home.
In fact, analytics, data, and sensors that are engineered into smart home devices are most appealing to consumers because they want the devices to control themselves and need very little programming. Basically, consumers want devices that can "read their minds" like a coffee pot that knows exactly how and when you want your fresh brew.
Some predictions expect to see as many as 500 smart devices in a home by 2022 but the problem is many consumers still aren't clear what the devices are and how they'll really be used to benefit their lifestyles.
Learn how Marrokal Design & Remodeling can help map out smart technology for your home to simplify your life, contact us today for a free consultation.